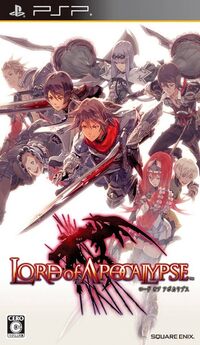 Lord of Apocalypse  (ロード・オブ・アポカリプス Rōdo obu Apokaripusu) is a Action hunting game with elements like Quick Time Event and button mashing scene made by Access Games and published by Square Enix for the PSP and PS Vita (Japan December 17, 2011).
Lord of Arcana Edit
Lord of Arcana is the actual first game, Lord of Apocalypse is a rework of it. After players complain Lord of Arcana's problem, Access Games decided to do a rework of the game focusing on fixing the game's problems.
Lord of Apocalypse takes place in a world called Horodyn, named after the land's first king. Somewhere in Horodyn lies an ancient stone known only as "Arcana", which apparently holds great magical power. Unfortunately, as well as humans, the world is home to many great and powerful monsters and beasts, which are fought by warriors known as Slayers who seek Arcana.
Quoted from Wikipedia