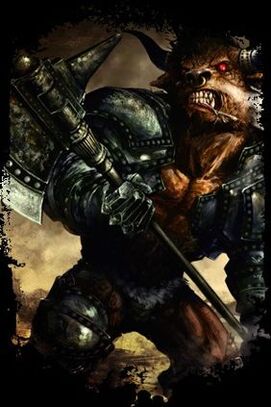 Minotaur
is a humanoid beast with the head of a bull. Its adamantine arms wield an ax the can decimate opponents and shake earth itself.
Charge: Easy to dodge charge that will break your defense if blocked.
Ax Attack: Minotaurs will attack you with their ax. (Note: When in Rage Mode, they have now a special combo)
Block: This is not really a attack but Minotaurs will block your attacks. (Note: After few seconds they will stop blocking)
Defeating Minotaurs won't be a problem for most weapons exept Firelance.
If they block, attack them at their back, or you can try to destroy their block.
If their Rage Mode is gone, they are tired.You have a chance to attack.
Item Drops
Edit
Bovine Bone
Bovine Horn
Bovine Tooth
Bovine Hide
Bovine Hoof
Bovine Armband
Bull's Nose Ring ( Gozu Tenno )
Bovine Tongue
Bull's Spine ( Gozu Tenno )